Boston artist Maria-Elena Kaser, known artistically as ksrmr, is a conjurer of sounds all along the experimental spectrums of electronic, ambient, and pop. Born in upstate New York, she eventually came to Boston to study songwriting at Berklee College of Music, but eventually ended up studying electronic production and design there. Her passion for music didn't start there, she's been creating music for as long as she can remember and the years of experience have built a special discography — so far. Her latest release, GRITONA, was released back in March and showcases her technical skills and versatility as a producer. But it also shines light on her as a songwriter and singer, as the record is full of soulful, ethereal vocal melodies that are beautifully contrasted and complimented by synthesizers.
I got to speak with her about the origins of 'ksrmr,' her music passion, the Boston music scene, GRITONA, her visual projection work, and more.
---
When was the inception of 'ksrmr'? Were you making music before you came up with this artist moniker? When and how did that music creation start for you?
My artist name always makes me laugh because unintentionally it comes with so many headaches, but I've never felt comfortable changing it. Ksrmr is a blend of my first and last name without any vowels. Taking vowels or replacing vowels was very popular at the time, but I changed it up so it wasn't as obvious of participation of a trend. I had never really considered my name as one that came with any star power, or it felt odd and highly personal when my full name was used, so this became a very comfortable way to release music in a somewhat obstructed way.
I had always made music in some form, but I really started to consider it as a creative outlet when I was around 15-16. The name "ksrmr" started getting used as I had started to produce music because I would post demos on SoundCloud using that username. When I was a teenager, songwriting felt like the only way I could take my emotions seriously without feeling like I was diluting them or minimizing them. A lot of these songs were on piano or guitar, and you can still hear elements of this approach to songwriting in my music before I felt competent as a producer.
I had always tinkered around with Garage Band growing up, stacking loops on top of circles to make little songs, but I didn't have the technical know-how to transfer my skill at playing the piano to these little songs. It's funny looking back at it now because the only thing holding me back from making music on the computer was learning how to quantize. After that, it was game over and I completely fell in love with it.
Are you originally from Boston? If not, where are you from and what brought you here?
I am not originally from Boston, my family has bounced around to a ton of places. In most cases, I've never lived anywhere for longer than 3 or so years. I've lived in Boston for the longest time, around 4 years now. I came here to go to Berklee, and stayed because there's such a wonderful community here. I don't know if I'll stay here forever, but I could definitely see myself settling down here in the future.
Where were you born originally?
I was born in upstate New York but my family moved after three years. I remember the house there feeling huge and I'd get in trouble all the time for drawing on the walls with crayon.
What did you study at Berklee?
I initially went to Berklee interested in the songwriting major, however, I switched gears to electronic production and design (EPD). It felt a lot more tangible in terms of learning mechanical skills that would make me more independent in creative spaces. It really opened my eyes to how far you can go with creating art with a computer/technology.
I know you've done a few performances around Boston, can you tell me a little about the local scene here from your perspective?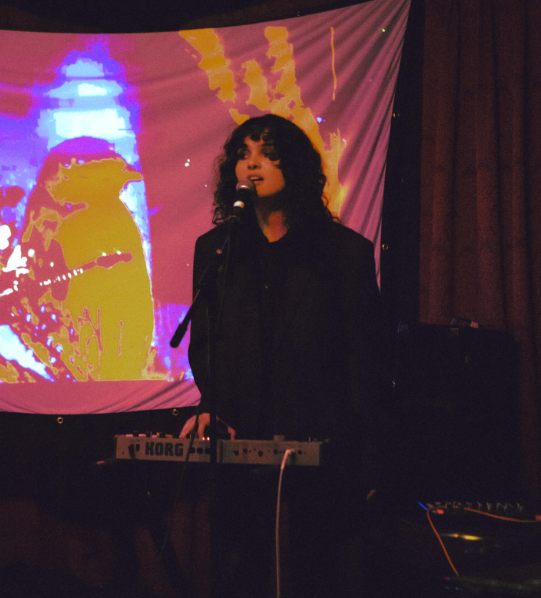 I used to only perform once every season, just because I never really had a stable band lineup, and performing by myself didn't feel like the best representation of my music at the time. That has changed dramatically this summer though, with the addition of my friend Taylor Morris in the lineup. We've only just started as a duo, but our last show together felt awesome. It's making me so excited for our upcoming shows. 
The scene here is exciting because it's very band heavy, and for a while, I felt pretty isolated due to the more electronic nature of my music. However, I've come to meet some really talented artists in the area who create more experimental, electronic-focused art, which makes me feel a lot less alone. Also, this isn't to say that I've been pushed out or anything, that's not the case. There has been a real appreciation for the art that I make, which means so much.
Some local acts that really inspire me are Tiefling, who makes a really eclectic mix of electronic and ambient music; Exit 18, who makes whimsical dark music with such a strong narrative through-line; Pleasure Coffin, who has such an engaging live show with elements of synth-pop and noise; Clifford the band, they're just insane performers with such dynamic range and gorgeous lyrics. There are also some really fun DJs in the area that I've had a lot of fun playing alongside or doing visuals for, such as Chelita, Replicator, DJ Maddog, and Fear dot com. 
How did the process for GRITONA begin? Did you have any influences in mind while working on the project?
The process of GRITONA came as a response to a situation that was happening in my life at the time, and I really needed to process my trauma in a safe space where my experience wouldn't be judged or picked apart. The songs are very autobiographical in nature, and follow a chronological order as I was writing it while it was playing out.
In terms of influences, there were none that I specifically was trying to reference. The most explicit one I found drawn to was the song "Simulation" by Roisin Murphy, which is this sexy and dark disco track that felt hypnotic, so the drums in "Blood" pull heavily from there. One more occasion would be the drums in "Blue". The percussion there can be compared to one used in slower 1975 tracks, like the song "fallingforyou". Other than that, I was just creating the songs based on the sound palettes that I was tinkering around with and working off of personal experiences. Another approach I very much kept in mind was making sure that the sounds used matched the emotions/events that I was going through.
How would you describe the sound of GRITONA?
The first word that comes to mind is intense. The ways in which it sounds intense varies, but I was really trying to capture the intensity of the emotions I was experiencing, and the shades they can come in. It's very granular, disjointed, and suffocating, only really letting up at the end with the song "May" which plays in stark contrast with the rest of the EP. Grief isn't something that can be expressed only in one way. There are so many stages in working through it that all feel different and difficult in their own ways.
What feeling(s) do you want your listeners to be left with after listening to GRITONA?
Ideally, I'd want people to find solace in whatever troubles they're going through and find comfort in the truth that they're not alone.
Did you do everything on GRITONA besides all the mixing and mastering? And can you tell me about those that did help you on the project?
I did some of the initial mix but I got a ton of help from my partner Nate Scaringi. They're an incredible musician and engineer so I really wanted their input on the project. We both make pretty abrasive music so having someone that shares that perspective is really valuable and makes the creative process feel safer. The mastering engineer, Omisha Chaitanya, is a friend of mine from college and they had mentioned before that they were open to mastering the project. I knew that they're an awesome engineer as well and on top of that an amazing person, so it made so much sense working together to make sure that the EP sounded as good as it could get. I have so much love and respect for them both, they were invaluable in the process.
Can you tell me a bit how it was like bringing "Blood" and "Blue" to life visually?
My creative process up until this point has been really insular, so when it comes to visuals I really like the thrill of letting someone else take the reins of the project. For example, I first worked with Vanesa Stoynova, who I've worked with countless times in the past. They filmed the short film for my first EP "Maria-Elena" and I scored their most recent project "Loverboy". The other filmmaker I worked with was Madaleine Kotary. She's incredible and I cannot believe "Blue" was her first ever music video.
I worked really hard on painting a vivid picture with the production choices on the EP, so I left it up to the filmmakers to create the visual identities of the songs. "Blood" is heavy, visceral, and intense, so the approach we had with it was fitting with the "final girl" cliche from horror movies. It was a pretty physically demanding shoot, and it took a long time to release but I'm so happy with how it came out. "Blue" is a song about mourning, so it lent itself to go a more film noir route. Both are so visually striking and contrasting, which is exactly what I was going for as the EP covers a lot of ground sonically.
Speaking of visuals, you have been doing a lot of visual work for shows around the city. Can you tell me a little bit more about that? How'd you get into that, and what do you feel it adds to these shows?
Doing projection work has been so fulfilling as a side project to my music. There's so much music out there that I love so much and being able to add to the show experience is incredible. A lot of time artists have become accustomed to performing in spaces that may not be as visually inspiring, so giving them the chance to curate the visual landscape of their live shows is exciting. It's so much fun.
Any final comments? Any music recommendations you got for us? Anything we should be on the look out for?
Thank you so much for reaching out and letting me chat about my projects !! There's a very fun remix coming down the pipeline and make sure to catch one of our summer shows if you can ;-).
---
Keep up with ksrmr:
Listen to GRITONA everywhere here.